Cheap braided rugs are more frequently being recognized as practical and decorative home accents. Braided rugs, also called "rag rugs", come in various sizes, shapes and colors that can complement any given area inside or outside the home. Discounted braided rugs can be purchased at major retailers, home furnishings shops, rug suppliers and online furniture stores– a few even offer make-your-own braided rug kits.
That Vintage Look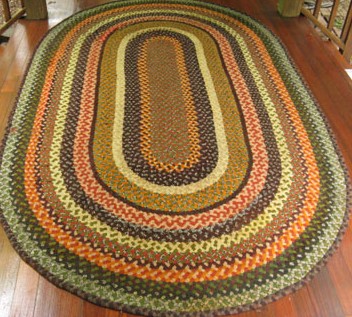 There is something vintage and appealing about using braided rugs; the technique of braiding has been around for centuries; hence, they give you that old-fashioned charm. Braided rugs can be oval, round, rectangular in shape. They can be as eye-catching as you want or as simple. Of the two main types of constructed braided rugs – flat braids and tubular (cushioned) braids – flat braids are more common and usually more affordable as they are easier to construct. Like conventional rugs, they can be made of wool, man-made fiber or fabric, cotton or yarn.
The construction itself makes the rugs strong, regardless of the materials used, so even cheap braided rugs are durable and can last long. Most types are reversible and machine washable.
Choosing Braided Rugs for your Home
You can easily find discounted braided rugs online and will certainly find nice-looking rugs for between $50 to $400 depending on the material and size. A round 6 foot braided rugs may be around $150, medium-size rugs are about $200 and large rugs that span 8 to 9 feet are approximately $300.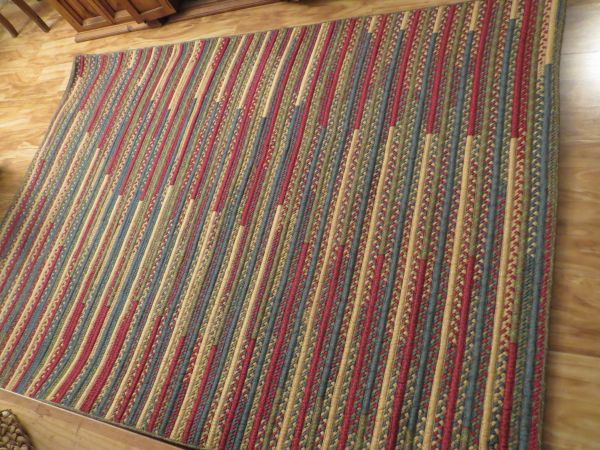 If you have a modern-themed interior, we suggest the round ones with bold colors. For country-styled houses, you can never go wrong with small to medium-size (5 feet by 7 feet) rectangular braided rugs. Have them in mute natural colors like tan, old rose, browns, light greens, and greys. To add a homey touch to busy areas like the kitchen or living room, you can opt for the oval-shaped cheap braided rugs; the rounded edges can soften the usual hard-surfaced ambience.
Elegant Décor
Some extra-small, flat and light braided rugs (less than 4 feet) can be used as fashionable table tops too. Put glassware or chinaware on top as a contrast. The heavy ones can go outside as a nice base for flower pots; while, you can hang the extra-large rectangular patterned rugs on your walls as decoration. That can also make an illusion that the room is big. Instead of using the usual soft carpet made of wool in the bathroom, you can use smooth braided rugs and throw in some baskets at the side as ornaments or as slipper or towel holders.
Rugs are versatile, and are a great option when you are thinking of personalizing your home. There are a lot of creative possibilities in turning cheap braided rugs into elegant-looking floor décor or counter top cover– no choice can be too wrong. The easiest way to make your home more elegant and comfy is to buy and choose a rug that suits your home and your personality.