Braided rugs (also called rag rugs) are beautiful pieces of home decor that can accentuate the elegance of natural wood flooring and add color and life to an area or room. The origin of these rugs dates back to the colonial era, when they were made from scraps of clothing to provide floor cover and help provide warmth for residents of the home.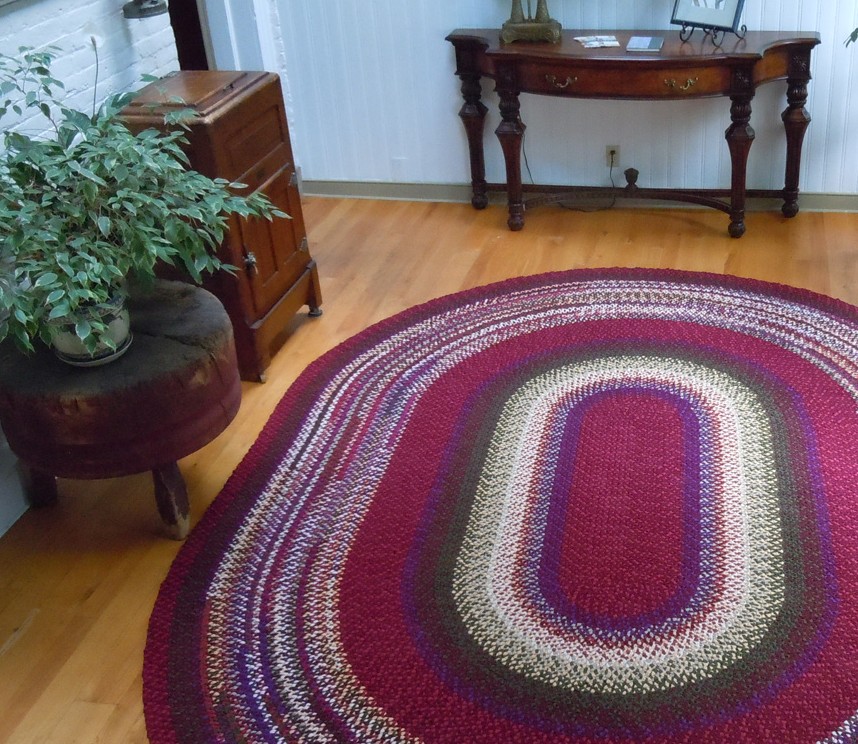 Today, these rugs transcend their traditional use and have become a modern day interior designer's tool to enhance the beauty and impact of a room or area, often at very affordable prices. Helping to lower their cost, commercial braided rugs are no longer hand-woven but machine made.
These pieces of colorful home decor can be both good for indoor and outdoor spaces, especially as modern innovations have adopted different types of yarns and fibers for their contemporary designs. There's a wide range of colors, patterns, shapes and designs to choose from depending on where and how the rug will be used. In fact, some custom dye their rugs to coordinate with the total plan and design for the room or area where they place the rug.
Non-traditional Shapes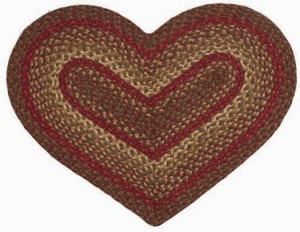 Traditionally the most common shapes for these pieces are ovals but there are also rectangular, square and round shapes. More contemporary designs include heart and flower-shape designs, octagonal, hexagonal and custom-made designs. They have also evolved to braided chair pads and stair runners and treads. A nice advantage of these rugs is, more than just their flexibility as compared to carpets, these rugs are reversible and totally washable, making them easier to clean and maintain.
These rugs serve as the floor's focal point or a room's main accent. Octagonal shapes and ovals are usually used as dining set floor covers and accents, while long, wide rectangular ones usually enhance and cover hallways for upper rooms.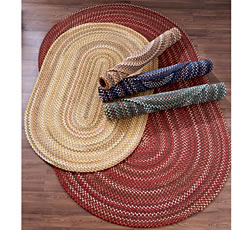 Today, commercially made rugs come in different materials. Most of them from wool yarn, but there are also varieties made from cotton and other stain-resistant synthetic materials. Also, contemporary rugs no longer just grace the patios and living rooms or other important rooms of homes, but also the corporate offices' receptions, galleries and galleys. They have also invaded contemporary resorts and have been customized to reflect the corporate colors or logo or both.
More and more interior designers are utilizing commercial braided rugs in their designs and lay-outs because they are affordable, easy to maintain, and easily customized.
One thing has not changed about these rugs from colonial times: braided rugs still protect feet against the coldness of the floor. The fusion of colors continues to enhance and brighten the indoors and remind people of the warmth and comfort of home. These rugs have come a long way. They may have evolved in style and technology, but they are still one of the most durable and inexpensive ways of enhancing and beautifying your home.